The Financial Conduct Authority has ordered insurance companies to pay out claims to firms "as soon as possible" or explain themselves to the watchdog.
The FCA has told insurers if there are reasonable grounds to pay part of a claim but not the full claim, they must make an interim payment.
If not, insurers must tell the FCA how they reached the decision and how it is "a fair outcome for customers".
The move is aimed at relieving pressure on firms during the Covid-19 lockdown.
Coronavirus: 'My business could go bust if insurers don't pay'
"A key objective of the FCA is to ensure that financial pressures on policyholders are not exacerbated by slow payment, rather, such claims should be paid as soon as is possible," the FCA's interim chief executive, Christopher Woolard, told insurers in a letter.
"This is consistent with the wider objective of the authorities to support business and consumers during the current crisis."
The letter is targeted at insurers in relation to claims from small and medium firms for business interruption cover and does not address individuals' policies.
A spokesperson for the Association of British Insurers said: "Insurers recognise this is a worrying time for all businesses and ABI members are committed to swift payment of valid claims and interim payments to their customers."
Mr Woolard admitted that following conversations with insurers, it was clear that most business interruption policies held by small and medium-sized businesses only had basic cover which did not include pandemics and therefore insurers had no obligation to pay out in relation to Covid-19.
"While this may be disappointing for the policyholder, we see no reasonable grounds to intervene in such circumstances," he said.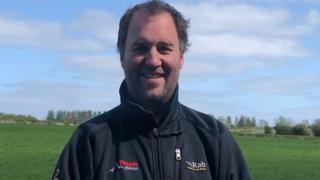 Some firms have warned they are at risk of collapse due to insurers failing to cover losses as a result of the coronavirus lockdown.
Businessman Simon Ager who runs the Pinnacle Climbing Centre in Northampton, is one of a number of business owners who have said they might take legal action against insurers Hiscox, which has said it will not pay business interruption claims resulting from the outbreak.
Mr Ager's policy covers the climbing centre for losses of up to £100,000 if it is forced to close in certain circumstances, although he says the lockdown is likely to cost him more than that.
Hiscox's policy documents says it will cover financial losses for businesses which are unable to use their premises following "an occurrence of any human infectious or human contagious disease, an outbreak of which must be notified to the local authority".
But Hiscox says the insurance industry does not have enough money to cover all the losses that will emerge as a result of the lockdown.
"Business interruption policies across the industry were never intended to cover pandemic risks," a spokeswoman said, noting that the insurer's lawyers do not think the pandemic is covered by its business interruption policies.
Instead, the insurer argues that the policy was intended to cover incidents that occur only within a mile of a business – not across the whole country – or outbreaks such as Legionnaires' disease on the premises.
Read more here
The FCA said that smaller companies, classed as firms with turnover of less than £6.5m and fewer than 50 employees, could take complaints to the Financial Ombudsman.
Mr Woolard added that the City watchdog had set up a small business unit, responsible for "gathering intelligence about the treatment of small businesses by financial services firms during the crisis and ensuring a co-ordinated response by the FCA to any issues identified".
Financial Conduct Authority (FCA)
Coronavirus pandemic
Companies
Insurance
Source: Read Full Article