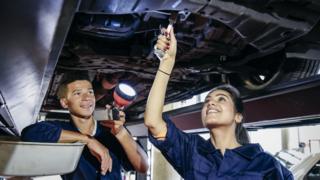 As A-level students learn that grades will be awarded by teacher estimates rather than by an algorithm, many BTec students are still waiting for their marks.
So what is being done to make sure vocational students are treated fairly?
What are BTec Nationals?
Studied over one or two years, BTec Nationals are vocational qualifications which provide work-based skills across areas including business, healthcare and engineering.
They are assessed over the course of the qualification through exams, practical coursework and often placements.
They can be used to attend university (similar to A-levels), although many people take them so they have the skills for a specific occupation.
Will marks change for BTec students?
Currently, only A-level students have been directly affected by changes announced on Monday.
However, Pearson, the company which runs BTecs, has confirmed that it will be reviewing results on "a case by case basis."
For BTec National students, grades were based on completed assessments and predicted results for those assessments that didn't happen. These were then adapted, based on whether the predicted grades are higher than usual for a particular college.
This is similar to how A-level students were marked. However, Pearson points out that because BTec students do far more graded assessments throughout the year, their predicted grades were more similar to previous years.
Ofqual has said that where vocational qualifications are being used to progress to university, they should try and use this method of predicting grades, rather than insist on further assessments.
However, some courses which rely on practical assessments, such as lab work or childcare, have been adapted. For example, by using video calls to allow assessments to be done while still complying with social distancing rules.
Why do some students not have results?
Some BTec National students are still waiting for results, which were due on Thursday 13 August.
Pearson has apologised for the delay and is offering to speak to universities on behalf of affected students.
Can I challenge my results?
If your BTec National marks were calculated based on completed assessments and predicted grades, you can appeal to your education provider.
They can then take your case to Pearson.
It might also be possible to complete your assessments in the autumn, although you should check based on the type of course you're on.
Who takes BTecs and why?
It was estimated just under 250,000 students completed BTec Nationals in 2019, compared with about 300,000 who sat A-levels in 2018.
BTec Nationals can be sat by any age group – in fact, most are taken by those over the age of 22, as they develop practical skills for their careers.
The most popular subjects in 2019 were business, sport and health and social care.
About 20% of university students in England are accepted after studying only BTec Nationals. Another 10% are accepted into higher education with a combination of A-levels and BTecs.
Midlands and northern students use Btecs for university the most
% of acceptances by region and qualification, 2016
BTec Nationals are particularly popular among white working-class students, according to research by the Social Market Foundation (SMF) think tank.
In 2016, 31% of this group who were accepted into higher education had studied just BTec Nationals.
Students from ethnic-minority backgrounds are also more likely to have these qualifications, including 37% of black students.
Minority groups use Btecs more to enter university
% of acceptances by ethnicity and qualification, 2016
What BTec subjects are there?
There are more than 2,000 different courses. These provide practical experience of everything from aeronautical engineering to hairdressing and forensic investigation.
BTecs are awarded by a private organisation, the education and training company Pearson. While England, Wales and Northern Ireland have BTecs, Scotland has its own Scottish Vocational Qualifications.
How do BTecs compare with other qualifications?
BTec Nationals are broadly comparable with A-levels.
However, other BTecs include those equivalent to a GCSE (BTec Firsts) and the first year of university (BTec Higher Nationals).
What about other vocational qualifications?
According to Ofqual, there are currently more than 12,000 vocational qualifications at all levels, offered by more than 150 awarding organisations.
Beyond BTec, other organisations, such as City and Guilds and the OCR (Oxford, Cambridge and RSA Examinations), also offer vocational qualifications.
And students can have a wide range of courses in a single subject from which to choose. There are currently 34 qualifications alone for those aiming for a career in plumbing.
However, in July 2016 then Prime Minister Theresa May announced plans to slash the number of courses available.
It said this would help avoid confusion for students and employers and to redress what it considered to be an imbalance between post-16 technical and academic qualifications.
So, the autumn of 2020 is still expected to see the introduction of a new qualification, the Technical or T-level.
These new two-year courses will follow on from GCSEs and be equivalent to three A-levels.
Do you have a question about your exam results? Use the form to send it to us.
In some cases your question will be published, displaying your name, age and location as you provide it, unless you state otherwise. Your contact details will never be published. Please ensure you have read our terms & conditions and privacy policy.
If you are reading this page and can't see the form you will need to visit the mobile version of the BBC website to submit your question or send them via email to [email protected]. Please include your name, age and location with any question you send in.
Source: Read Full Article