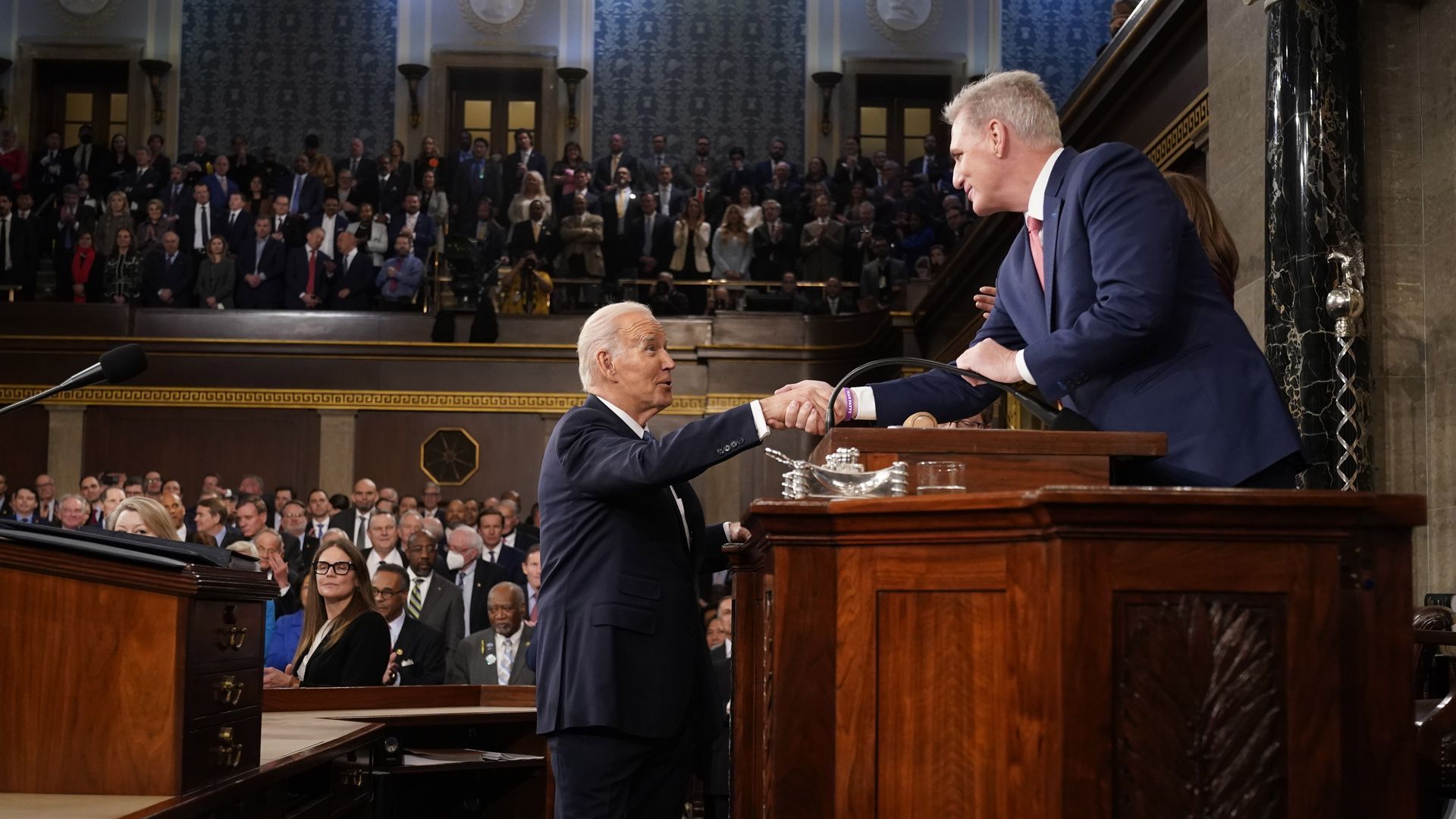 Photo: Jacquelyn Martin/AP/Bloomberg via Getty Images
President Biden is warning Democrats that he has low expectations for next week's budget meeting with House Speaker Kevin McCarthy.
Why it matters: The meeting could be a step toward a budget deal that leads Republicans to endorse raising the debt ceiling and avoid a government default. But Biden isn't confident McCarthy will present a plan, citing the GOP's divide over its budget priorities.
"It will be interesting to see what they want to cut and what their numbers add up to," Biden said.
He asked: "Are they going to cut Medicaid? The Affordable Care Act? Are they going to cut Medicare? Veterans benefits? Aid to rural communities? We're going to see what they're going to do."
McCarthy has urged Biden to negotiate over cuts — and has acknowledged that Social Security and Medicare are off the table — but he hasn't said what programs should be cut.
Driving the news: Biden spoke of his concerns late Wednesday at the House Democratic Caucus retreat in Baltimore.
Biden has met with McCarthy just once since the California Republican became speaker in January.
The president is scheduled to present his proposed budget next week, a plan that will aim to focus on cutting some spending while increasing government revenue.
Biden has said his plan would reduce the federal deficit — currently more than $31 trillion — by $2 trillion.
What they're saying: Democrats at the retreat blasted "extreme MAGA Republicans" for putting the U.S. government in a situation that could lead to an economically catastrophic government default on its debt.
House Minority Leader Hakeem Jeffries (D-N.Y.) noted: "The debt ceiling was lifted three times without any rancor during the presidency of Donald Trump."
"The notion that we're going to be lectured by the people who have consistently crashed the train whenever they've held power is ridiculous," he added.
House Assistant Democratic Leader Jim Clyburn (D-S.C.) said Wednesday that Democrats' priorities will be informing Americans of the proposals they hope to put in place to improve their quality of life.
Zoom in: Biden repeated his refusal to eliminate programs benefitting elderly and working-class Americans.
Biden said the GOP's vocalizing a commitment to fiscal responsibility has not been matched by its actions under his predecessor.
"Nearly 25% of the entire national debt — which took over 200 years to accumulate — was added by my predecessor in four years," he said.
What's next: Democrats plan to make the GOP's internal wrangling over the which programs to fund and cut part of the Democratic campaign to retake the House in 2024.
"Extreme MAGA Republicans are in control of the United States House of Representatives, and that's a bad thing for the American people," Jeffries said.
Source: Read Full Article