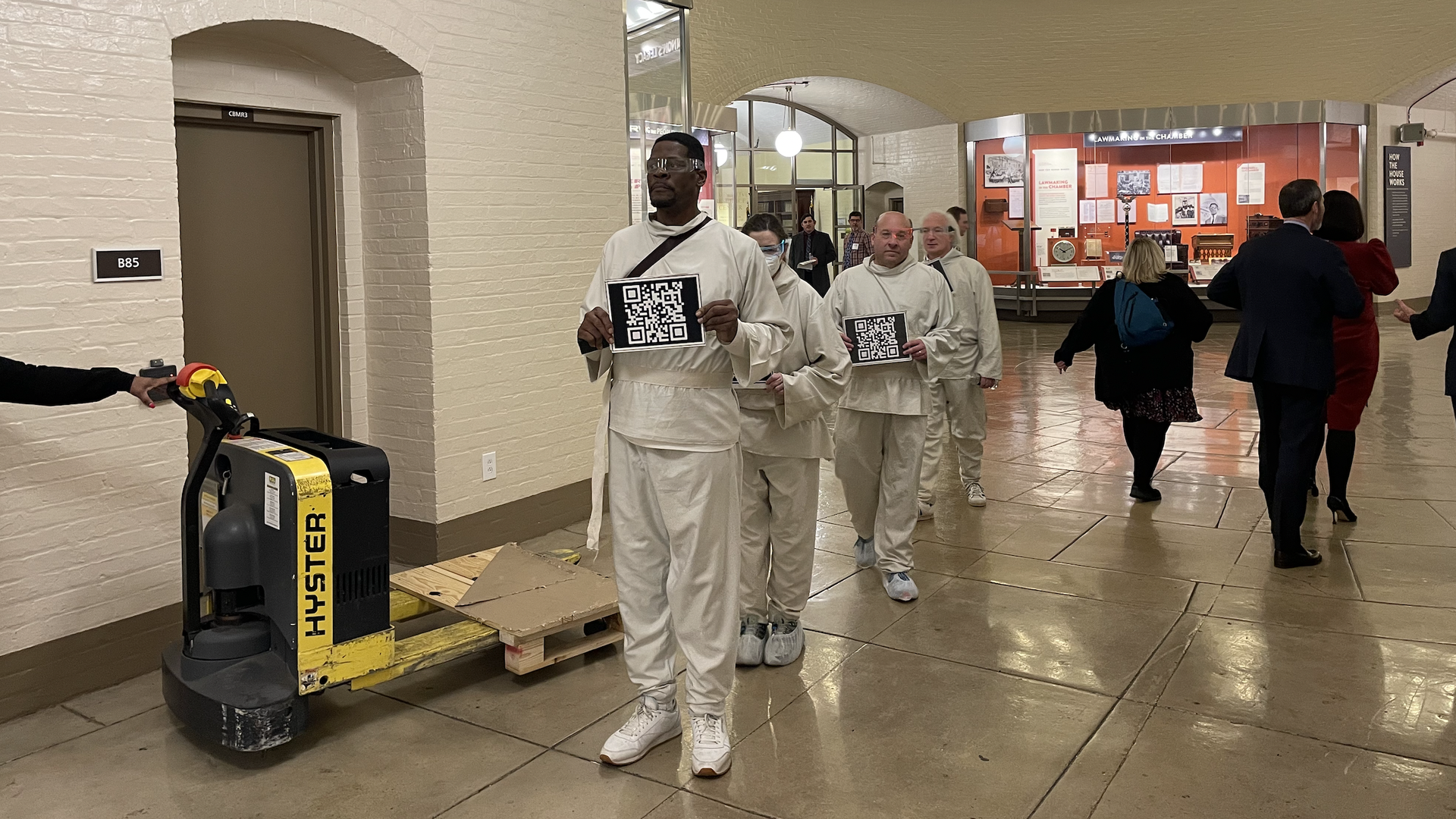 Photo: Andrew Solender/Axios
Former Rep. Adam Kinzinger (R-Ill.) turned heads on Capitol Hill this week by sending performance artists dressed in straitjackets and blue-and-red tinted glasses to the House offices.
Why it matters: It's part of a campaign Kinzinger is launching against political extremism and attention-grabbing political antics at a time when the House is focused on flashy hearings and probes into the Biden administration.
Kinzinger told Politico, which first reported his campaign, that the glasses symbolize the ideological binary in the American political system: "We've been programmed so much to believe … that each event in the world should be seen through blue or red glasses."
Kinzinger retired from Congress this year after voting to impeach former President Trump over the Jan. 6 attack and serving on the Jan. 6 select committee.
The state of play: The performers were first spotted roaming the House office buildings on Tuesday, perplexing lawmakers and staffers with their unwillingness to speak or do anything to broadcast their message.
The mystery was solved on Wednesday, when they began carrying QR codes that link to a website denouncing political extremism and calling to "reject conspiracies and stand for truth, courage and integrity."
What he's saying: "We call them 'drones'," Kinzinger told Axios in an interview. "They're just kind of droning around, they really don't have a purpose at the moment … because they just feel unrepresented. They feel like government is just kind of going along."
By "grabbing attention," Kinzinger said, they're also meant to satirize the "desperate need of every lawmaker and staffer there" to get onto television and go viral on social media.
Kinzinger said the purpose of them staying silent at first was to cultivate mystique.
By the numbers: Kinzinger said he is spending $250,000 on an "initial launch," including TV and digital ads, billboards and other performance art campaigns.
"I'm sure it'll end up probably building to be even more."
The money comes from Kinzinger's 501(c)(4), Country First Action.
What we're watching: The anti-Trump Republican suggested he plans to stay in the GOP and will likely run for office again: "It's not, like, on my radar right now … [but] I expect that there will be a moment where it's like, okay I'm ready to do this again."
He added: "Anything but the House."
Source: Read Full Article