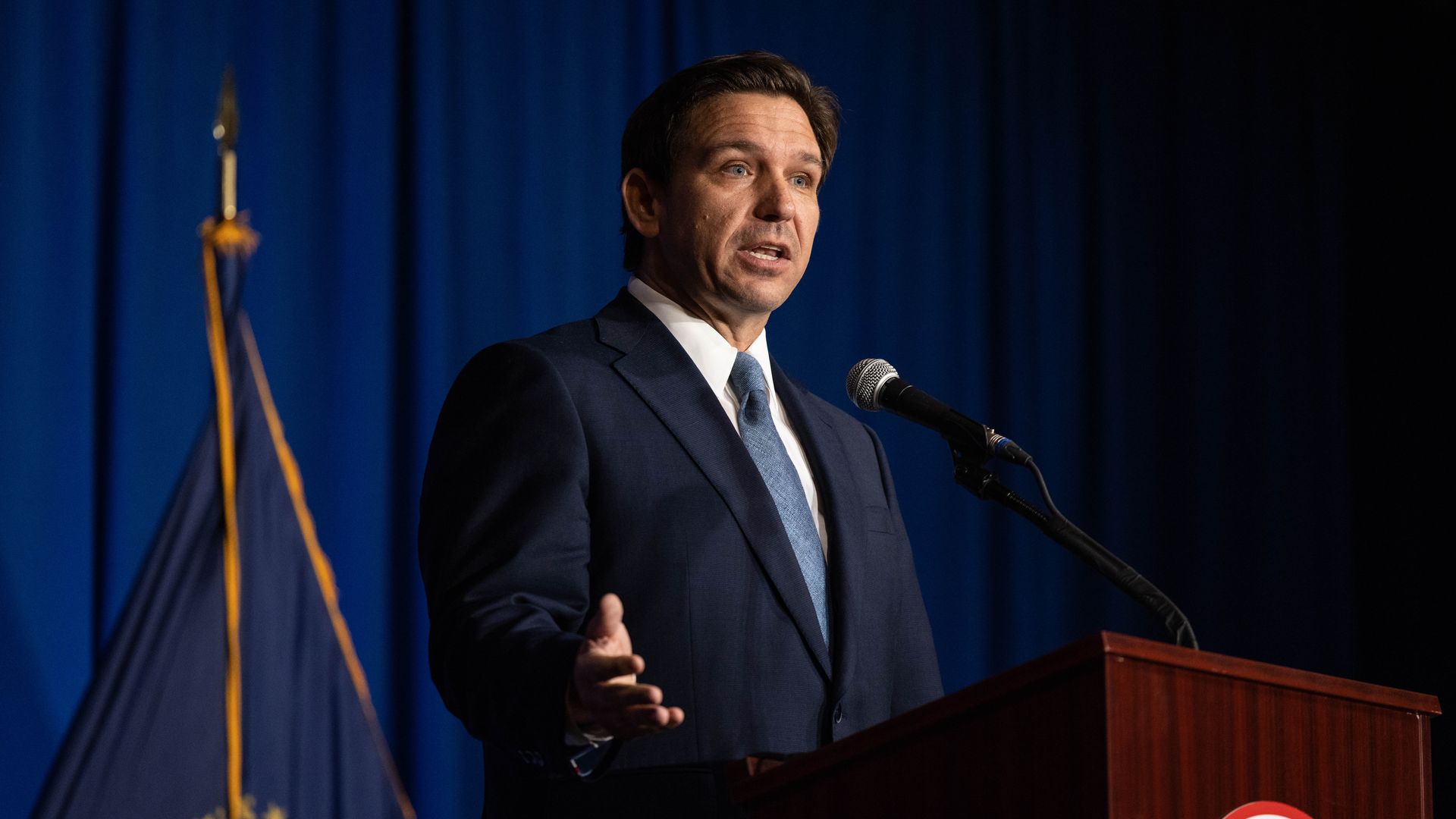 Florida Gov. Ron DeSantis (R-FL) delivers remarks April 14, 2023 in Manchester, New Hampshire. Photo: Scott Eisen/Getty Images
Florida Gov. Ron DeSantis (R) introduced a legislative proposal Monday aimed at nullifying the Walt Disney Company's recent effort to restrict the state's ability to rein in future development at Disney World.
Why it matters: Disney's restrictive development agreement undercut DeSantis' oft-repeated talking point that he defeated "woke corporatism" in his state. Now, the Republican governor is hitting back.
In addition to voiding Disney's agreement, DeSantis said lawmakers are also looking to revoke other privileges the entertainment giant holds in Florida, including its monorail system's exemption from state inspections.
DeSantis then expressed interest in developing the land now in the possession of the governor-appointed board into a park or a state prison.
Catch up quick: The yearslong feud between the Republican governor and Disney began after the company publicly denounced Florida's Parental Rights in Education Bill, dubbed by critics the "Don't Say Gay" bill.
DeSantis responded with legislation in April 2022 that revoked the special status of Reedy Creek, a municipal district operated by Disney. In late February, he signed a bill transferring control of the district to the state.
Board members discovered earlier this month that the Disney-controlled board pushed through covenant agreements that gave the company authority over most of the future construction in the district.
What they're saying: "We made the decision as a state, as a people through the medium of our elections that we would not have one corporation serving as its own government," DeSantis said at the press conference.
"They negotiated with themselves to give themselves the ability to maintain their self-governing status," he added. "Now that's in direct defiance of the will of the people."
"Let it be known across this great nation that here in the free state of Florida, it is 'We the People,' not woke corporations," state Rep. Carolina Amesty (R-Windermere) said.
Representatives for Disney declined Axios' request for comment.
What's next: The bill is set to be filed next week.
Source: Read Full Article