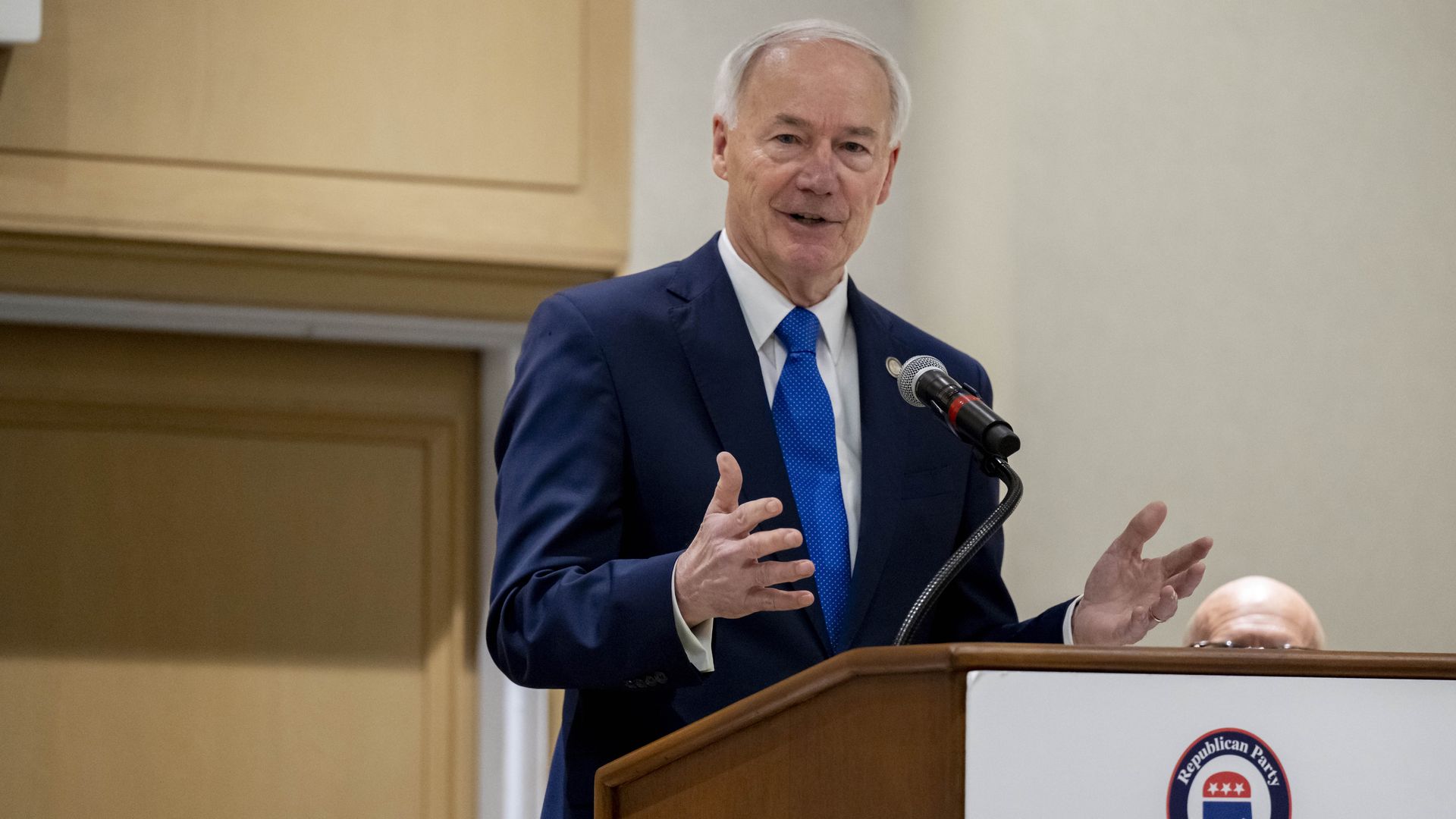 Former Arkansas Gov. Asa Hutchinson, speaks before a meeting of the Republican Party of Orange County at the Hilton Orange County in Costa Mesa on Monday, March 20, 2023. (Photo by Leonard Ortiz/MediaNews Group/Orange County Register via Getty Images)
Former Arkansas Governor Asa Hutchinson (R) will run for president in 2024, becoming the latest Republican to launch a campaign for the White House via an announcement on ABC's "This Week" on Sunday.
Driving the news: Hutchinson, who served as Arkansas governor from 2015 to 2023, is the fourth Republican to announce a campaign. Former President Donald Trump, former South Carolina Governor Nikki Haley and venture capitalist Vivek Ramaswamy are already in the race.
What they're saying: " I'm going to run for President of the United States," Hutchinson told ABC News' Jonathan Karl. "The reason — I've traveled the country for six months. I hear people talk about the leadership out of our country, and I'm convinced that people want leaders that appeal to the best of America and not simply appeal to our worst instincts."
"That inspires me when I see everyday Americans just saying, give us good leadership, give us common sense, consistent conservatism and optimism about our great country, and that inspires me. And I believe I can be that kind of leader for America," he said.
Hutchinson added that a formal announcement for his campaign will come later this month in Bentonville, Arkansas.
Hutchinson previously served as a House Representative for Arkansas' 3rd congressional district from 1997 to 2001, and then as the director of the Drug Enforcement Administration (DEA) from 2001 to 2003.
He was the undersecretary in the Department of Homeland Security from 2001 to 2003.
Hutchinson also served as a House Manager during President Clinton's impeachment trial in 1998.
Context: Hutchinson gave no hint of what his campaign platform will be, but called the current political environment in the U.S. one of the "most unpredictable" he's seen in his life.
"My message [is] experience, of consistent conservatism, of hope for our future and solving problems that face Americans, I think that that resonates. "
Hutchinson believes Trump, who was indicted Thursday by a Manhattan grand jury, should also drop out of the 2024 race but that there's no constitutional requirement that Trump does so.
"It's a sad day for America that we have a former president that's indicted. And so it's a great distraction. But, at the same time, we can't set aside what our constitution requires, which is electing a new leader for our country just because we have this side controversy and criminal charges that are pending," he said.
"The office is more important than any individual person. And so, for the sake of the office of the presidency, I do think that's too much of a sideshow and distraction, and he needs to be able to concentrate on his due process. And there is a presumption of innocence."
"The second reason is…I've always said that people don't have to step aside from public office if they're under investigation. But if it reaches the point of criminal charges that have to be answered, the office is always more important than a person," he added.
Source: Read Full Article