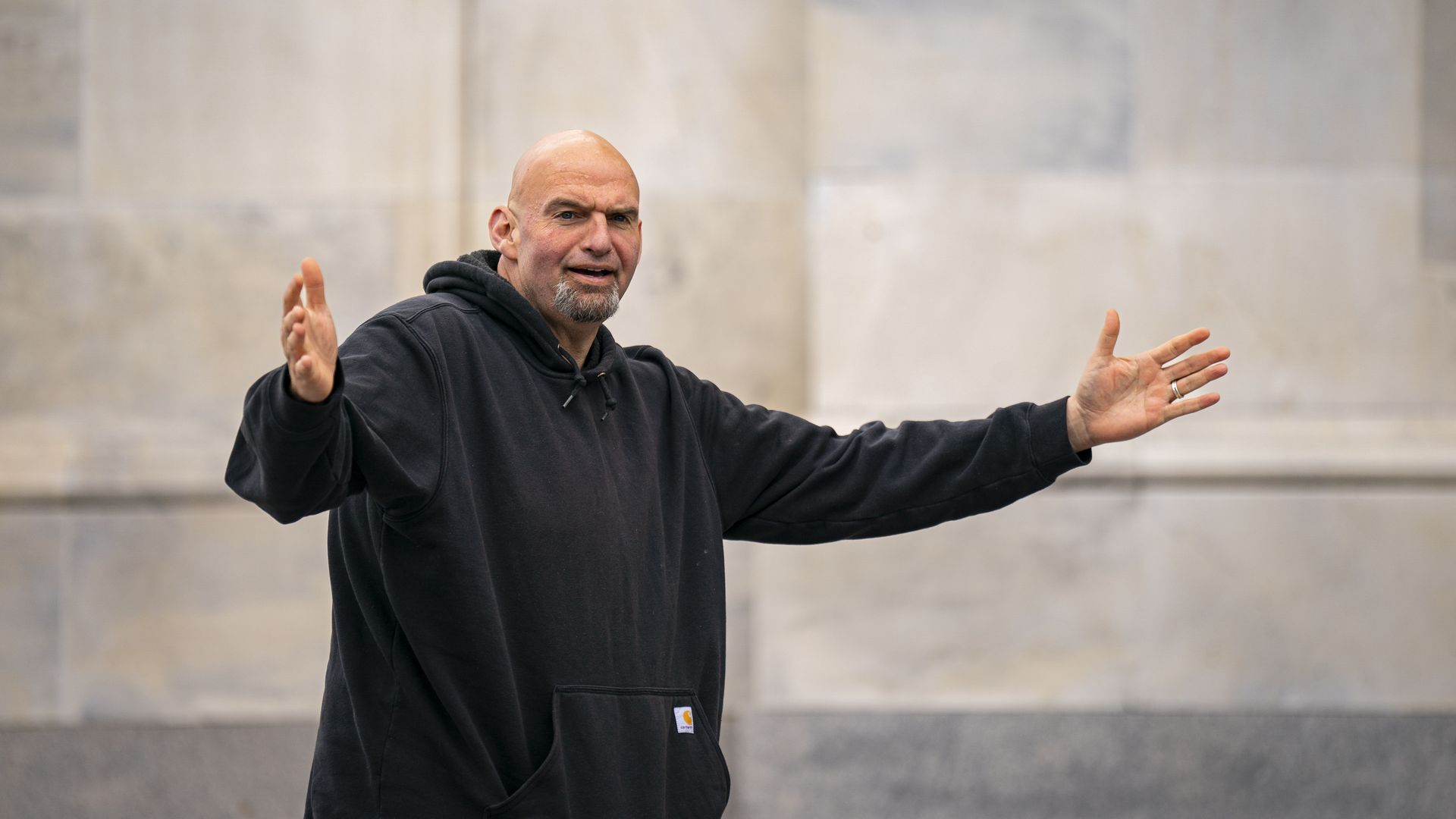 Sen. John Fetterman arrives at the US Capitol on April 17 following a stay at Walter Reed National Military Medical Center in Washington, DC. Photo: Al Drago/Bloomberg via Getty Images
Sen. John Fetterman (D-Pa.) returned to the Senate on Monday, two months after he checked himself into Walter Reed Medical Center where he was treated for clinical depression.
The big picture: Congress reconvened Monday after a two-week recess, with Fetterman as well as Senate Minority Leader Mitch McConnell (R-Ky.) returning after absences. Meanwhile, Democrats have grappled with the impact of Sen. Dianne Feinstein's absence (D-Calif.) on their slim majority.
McConnell returned Monday more than a month after he was hospitalized after falling at a fundraising dinner.
Feinstein, who is recovering from shingles, has been facing pressure to resign over concerns that her absence has hampered Senate Democrats' ability to advance judicial nominations.
Driving the news: "It's great to be back. Thank you," Fetterman told reporters as he returned to the chamber on Monday.
The first-term senator was discharged from the hospital on March 31 and returned to his home in Braddock, Penn.
Fetterman indicated last month that he would be back in the Senate on April 17, when the chamber returned from recess.
He said in a statement after his release that he was "extremely grateful to the incredible team" at the medical center, adding that "the care they provided changed my life."
Of note: Senate Majority Leader Chuck Schumer (D-N.Y.) said last week that Democrats would try to "temporarily" replace Feinstein on the JudiciaryCommittee as she recovers.
Source: Read Full Article