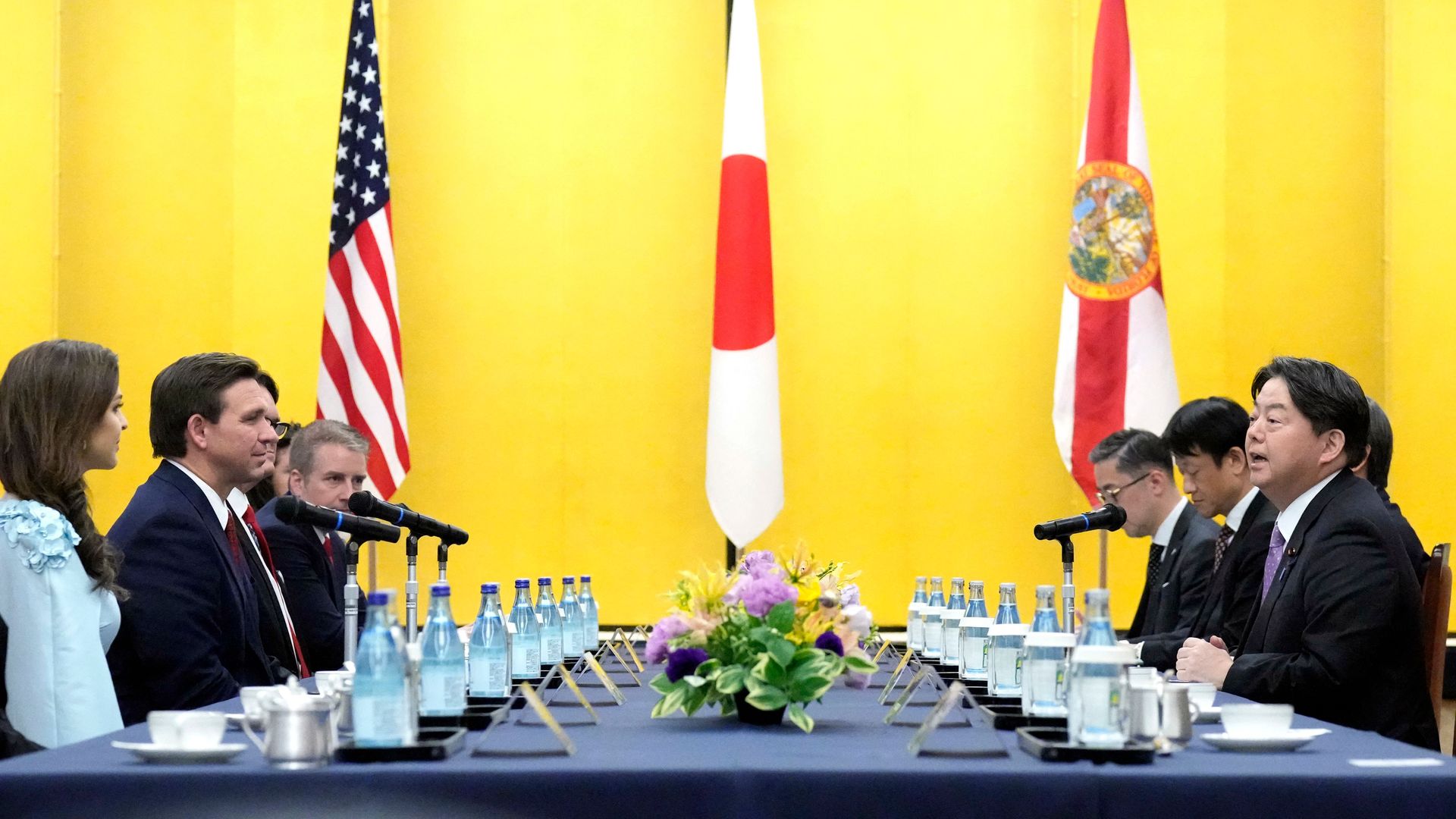 Ron DeSantis and Japanese Foreign Minister Yoshimasa Hayashi attend their meeting at the Iikura Guest House in Tokyo on April 24. Photo: Eugene Hoshiko/POOL/AFP via Getty Images
Florida Gov. Ron DeSantis (R) praised the idea of a "strong Japan" during a meeting with Japanese Prime Minister Fumio Kishida and other officials in Tokyo on Monday, while brushing off questions about his potential 2024 run.
Driving the news: Japan marks the first stop in DeSantis' four-country overseas trip, where the prospective 2024 presidential candidate will have a chance to dust off his foreign policy credentials.
The trip, which his office billed as an international trade mission to bolster the economic ties with Florida, will also have stops in South Korea, Israel, and the U.K.
When asked by reporters about polling showing him trailing behind former President Donald Trump in the 2024 race, DeSantis shrugged off the question.
"I'm not a candidate, so we'll see if and when that changes," he said.
State of play: During a meeting with Kishida, the leaders discussed the importance of bilateral ties between the two countries and the economic ties between Japan and Florida, according to a statement from the Japanese Foreign Ministry.
"I think Japan's been a heck of an ally for our country, and I think a strong Japan is good for America, and I think a strong America is good for Japan," DeSantis said in remarks during his meeting with Japanese Foreign Minister Yoshimasa Hayashi.
DeSantis also praised Japan's efforts to ramp up its defense capabilities during his meeting with Kishida, per the Washington Post.
The big picture: DeSantis faced criticism from members of his own party earlier this year when he delved into U.S. foreign policy in Ukraine, saying the "territorial dispute" between Ukraine and Russia was not a vital U.S. national interest.
DeSantis later clarified his comments, which he said had been "mischaracterized" and called Russian President Vladimir Putin a "war criminal."
Source: Read Full Article