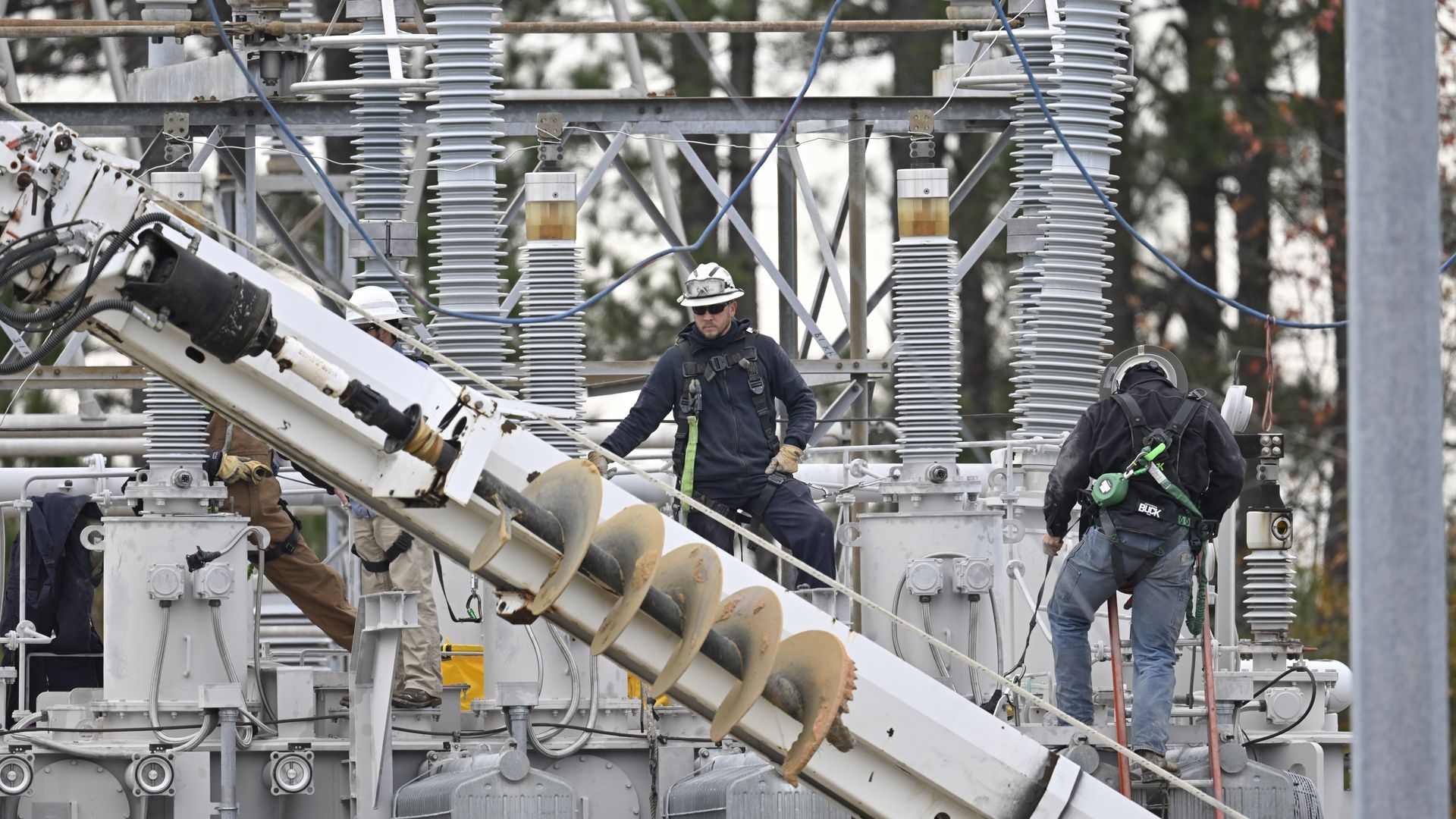 Utility workers in December 2022 attempt to restore power in North Carolina's Moore County after two electrical distribution substations owned by Duke Electric were attacked. Photo: Peter Zay/Anadolu Agency via Getty Images
Attackers and vandals are targeting America's electrical grid more than they have at any other point in the last decade, government documents show.
Why it matters: Recent assaults on power infrastructure across the country have led to mass outages and prompted calls from both state and federal lawmakers for new security measures.
How prevalent are these attacks?
Last year, there were 163 reported electrical incidents or disturbances caused by acts of vandalism, physical attacks, or "suspicious activity," according to an Axios analysis of data from the Department of Energy.
The previous peak — 94 reported human-related incidents — was in 2020.
"I don't think I have to tell all the people in this room that lately we have had an uptick in attacks on the physical security of our grid," Willie L. Phillips, acting chairman of the Federal Energy Regulatory Commission, said at a meeting last month.
How prevalent are these attacks?
Late last year, attacks on more than a dozen electrical substations — key junctions in the electrical grid — left tens of thousands of homes without power. Some people went days without electricity as temperatures outside dipped.
In early December, around 45,000 people in North Carolina were left in the dark after two substations were hit with gunfire in a "targeted" incident.
Weeks later, two men attacked substations in Washington state, leaving thousands without power on Christmas Day and causing at least $3 million in damage, federal prosecutors say. Meanwhile, an Oregon substation was vandalized on Thanksgiving.
On Friday, local prosecutors charged a San Jose man with bombing two electrical transformers. Last month, federal authorities charged two people — one of whom founded a neo-Nazi group — with plotting to destroy Baltimore-area energy infrastructure as part of a "racially or ethnically motivated violent extremist" scheme.
By the numbers: In 2022, incidents listed as acts of vandalism (80), physical attacks (25), suspicious activity (57), and sabotage (1) were more frequent than those caused by cyber events, per the DOE data.
"Suspicious activity" can include people taking photos of energy infrastructure, or people or drones approaching facilities unannounced, a senior DOE official told Axios.
The data comes from electric companies, which must report all emergency incidents and disturbances to the DOE — but the department doesn't track how many incidents lead to criminal prosecution.
But not all reported issues — whether from natural or human causes — result in energy systems breaking down, a DOE spokesperson said. Those incidents can include copper theft, break-ins, or signs of errant gunfire.
How substations work
Chances are you've passed by one of the more than 55,000 electric substations connecting the country's power grid. The fenced-in facilities can be large or small, and resemble a metal jungle of gray poles and wires.
The substations house transformers, among other crucial pieces of equipment, which change the voltage of electricity so it can move across the network.
Some attackers have recently targeted large power transformers — multimillion-dollar pieces of equipment that are in short supply and difficult to replace, according to the DOE.
Rural substations can be more vulnerable to attack due to the lack of potential witnesses in the area and foliage limiting security camera views. Many substation locations are also provided publicly by the U.S. Energy Information Administration.
What's the ongoing risk?
Though physical attacks are on the rise, severe weather, operational failures, and transmission interruptions were still the most common causes of electrical incidents or disturbances in 2022.
But the recent substation assaults and other incidents, including the 2021 ransomware attack against the Colonial Pipeline, "have heightened our awareness of the physical and cybersecurity of the grid," says Neil Chatterjee, former chair of the Federal Energy Regulatory Commission.
"We have seen attacks such as these increase in Western Washington and throughout the country and must treat each incident seriously," U.S. Attorney Nick Brown said in a January statement announcing arrests in the Washington state case. "The outages on Christmas left thousands in the dark and cold and put some who need power for medical devices at extreme risk."
As other criminal investigations continue, the DOE will work with law enforcement, interagency partners, and utilities to "address any and all interruptions of electric power and threats to our electric system reliability," the DOE spokesperson said.
What's being done?
Lawmakers in multiple states have introduced legislation that would require public utilities to provide 24-hour security at substations or would increase penalties for trespassing into facilities or damaging equipment.
New security measures, such as erecting ballistic walls around transformers or posting guards, may not be necessary or financially sustainable for all substations, says Scott Aaronson, the Edison Electric Institute's senior vice president of security and preparedness.
He instead emphasized deterrence strategies, such as adding substations to areas that only have one, to limit the effects of attacks.
In any case, Chatterjee said governments and power providers will have to balance the risks of future attacks with the price of additional security measures "because these costs are ones that will be borne by ratepayers."
Go deeper: Justice Department charges 2 over alleged "racially motivated" plot to attack Maryland electrical stations
Source: Read Full Article