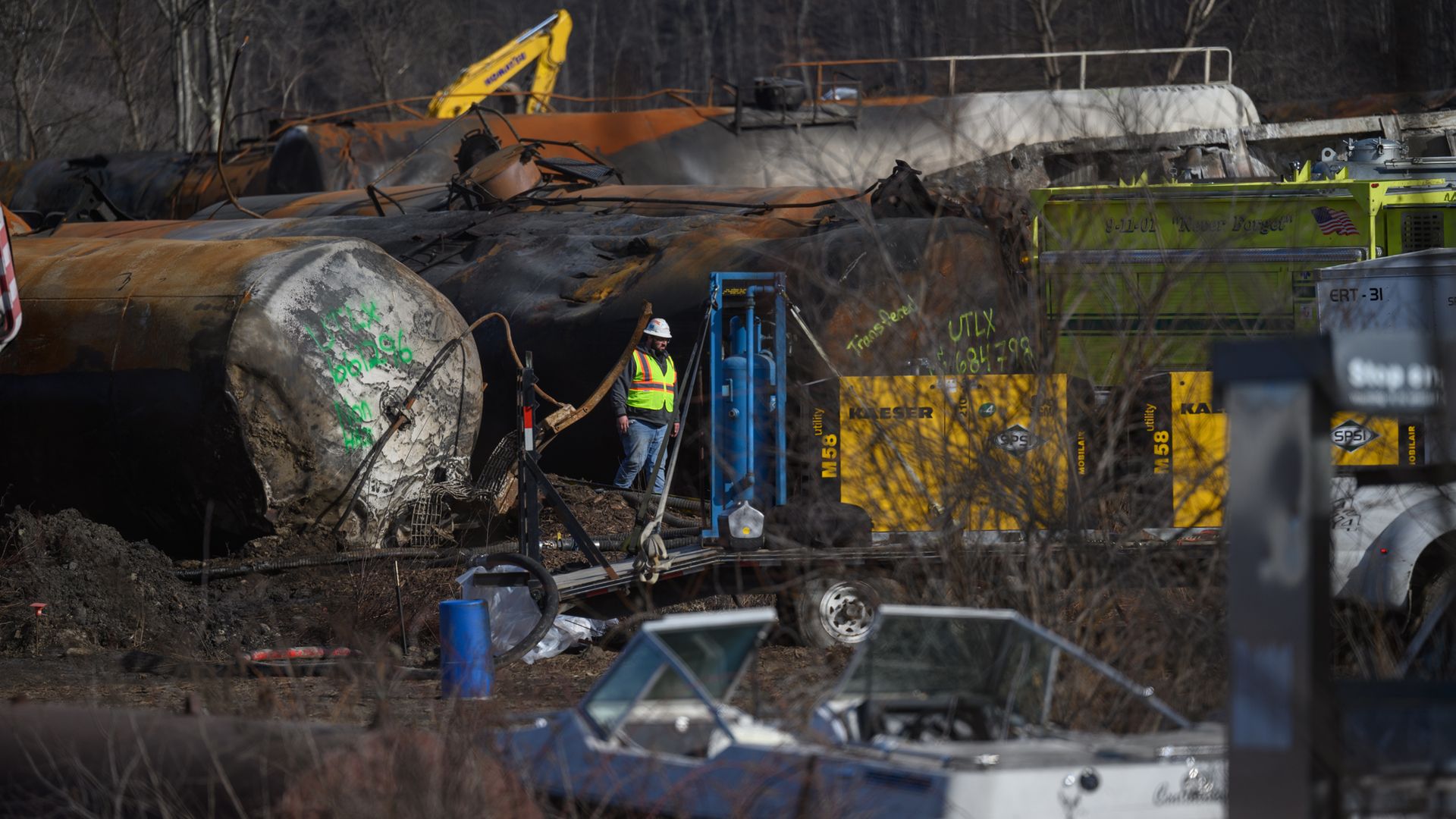 The site of the train derailment in East Palestine, Ohio. Photo: Rebecca Kiger for The Washington Post via Getty Images
As emergency crews continue to clean up the site where a train carrying hazardous materials derailed in East Palestine, Ohio, several lawmakers are pushing for answers about government oversight of the freight train system.
Why it matters: The derailment and subsequent fire forced hundreds to evacuate and caused alarm about toxic fumes and water contamination from spilled materials.
The 150-car Norfolk Southern train was hauling at least five tanker cars containing the hazardous gas vinyl chloride.
Driving the news: GOP Sens. Marco Rubio (Fla.) and J.D. Vance (Ohio) sent a letter to Transportation Secretary Pete Buttigieg on Wednesday demanding information about his department's oversight of the U.S. freight train system.
The letter questioned how the derailed train's three-member crew was supposed to "effectively monitor 150 cars" and accused the Biden administration of prioritizing "efficiency over resilience in its national infrastructure and transportation systems."
Rep. Ilhan Omar (D-Minn.) also called for a congressional inquiry and "direct action" from Buttigieg earlier this week — a statement Sen. Ted Cruz (R-Texas), who sits on the Senate Commerce Committee, said he backed.
The train derailment will have "a significant negative impact on the health and wellbeing of the residents for decades," Omar tweeted.
Yes, but: Buttigieg responded by saying that the ability to improve rail safety and "reduce constraints" lies with Congress.
"Glad to see newfound bipartisan agreement here," he tweeted in reference to Cruz and Omar. "We could start by discussing immediate steps Congress could take … Give us a call, we can do some good work."
Buttigieg pointed out earlier this week that his agency's ability to regulate the rail system is "constrained by law" due to the Trump administration's 2017 withdrawal of a rule that would have required the installation of electronic braking systems on some trains carrying flammable materials. Electronic breaks can stop trains more quickly than typical air brakes.
That move was enabled by a measure passed by Congress, which in 2015 mandated additional research and cost-benefit analyses of the technology.
"[W]e are using the powers we do have to keep people safe," Buttigieg said.
Worth noting: Several media outlets have reported that Norfolk Southern employees had expressed concern about the freight train's length and weight prior to its departure from Madison, Illinois.
The train had also broken down at least once before it derailed, some employees told CBS News.
Railroad worker unions had previously made it clear that employees were fed up with being overworked and that rail companies had cut down the workforce too excessively in a bid to save costs.
The big picture: The National Transportation Safety Board, supported by the Department of Transportation, is leading an investigation into the trail derailment in East Palestine.
A mechanical issue with an axle of one of the 150 cars is believed to be the cause of the derailment of at least 50 of the cars.
Norfolk Southern faces at least four class action lawsuits that allege negligence related to the crash.
Source: Read Full Article