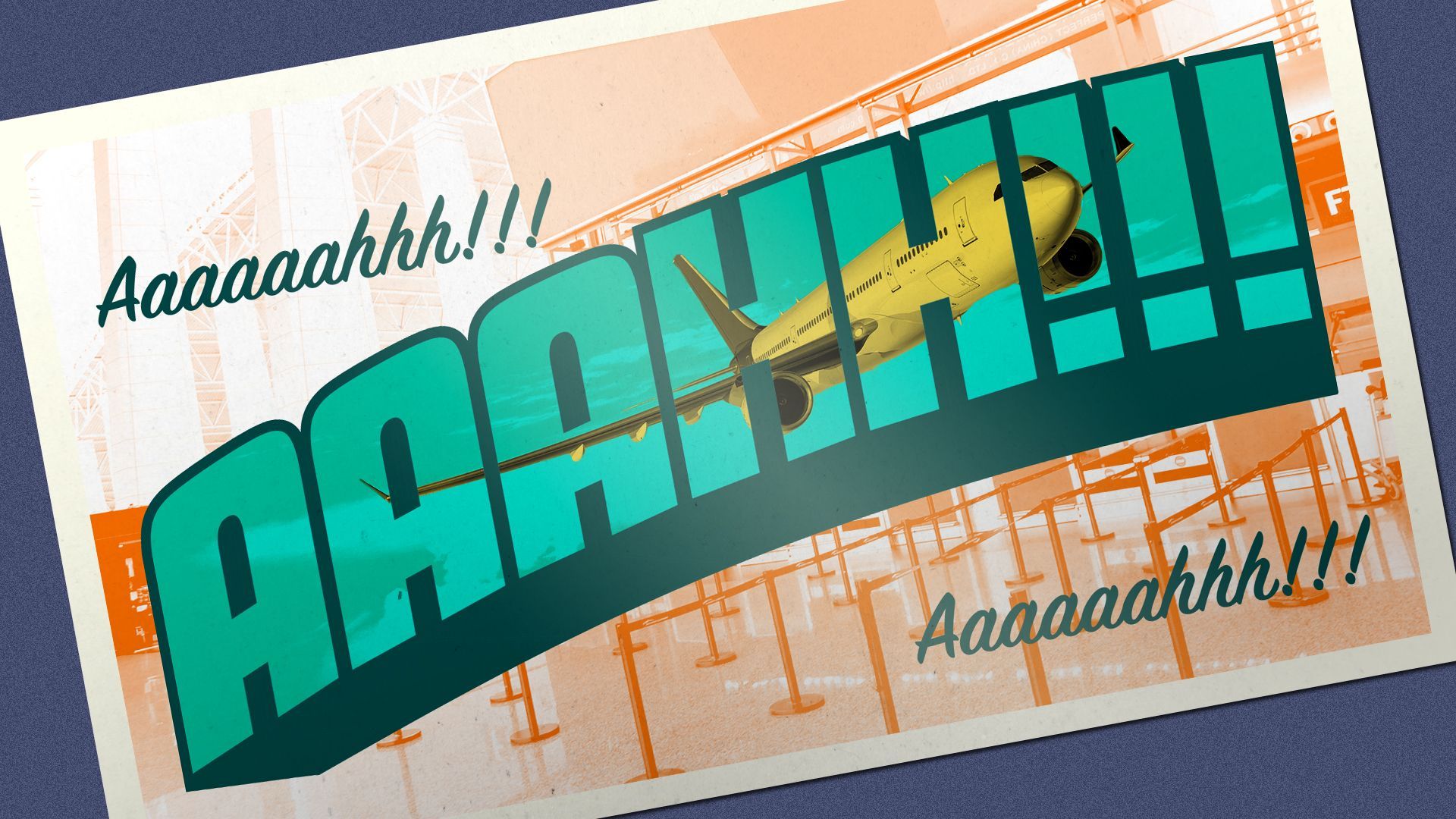 Illustration: Brendan Lynch/Axios
Summer will test just how well airlines have recovered from the chaos of this past holiday season.
The big picture: Summer travel and the holidays are airlines' biggest stress tests. The holidays were a nightmare, as Southwest Airlines entered full meltdown, and a host of other challenges could complicate summer travel, too.
By the numbers: Just 69.1% of domestic U.S. flights departed on time in December 2022, according to the U.S. Department of Transportation. Southwest's struggles dragged down the average for all carriers.
That figure is generally between 75%-80% in a typical month, albeit with predictable dips in the busy — and often meteorologically challenging — summer and winter travel seasons.
Zoom in: Denver International Airport, Seattle-Tacoma International Airport and Austin-Bergstrom International Airport posted some of the country's worst on-time performance rates in December, at 57.4%, 61.7% and 66.4%, respectively.
What we're watching: All indications so far suggest Southwest has recovered nicely since December — but the industry is grappling with a fresh set of challenges.
The busier travel season will also be a test for pilots, air traffic controllers and other stakeholders after a string of alarming incidents in recent months.
The Federal Aviation Administration issued a "safety call to alert"Wednesday to remind pilots, airlines and others of best practices for safe flying, following a string of alarming incidents in recent months.
Also on Wednesday, a key Senate committee indefinitely delayed a vote on President Biden's pick to run the FAA amid mounting opposition to his candidate, Phil Washington.
The FAA has been without a Senate-confirmed administrator since March 2022.
Source: Read Full Article