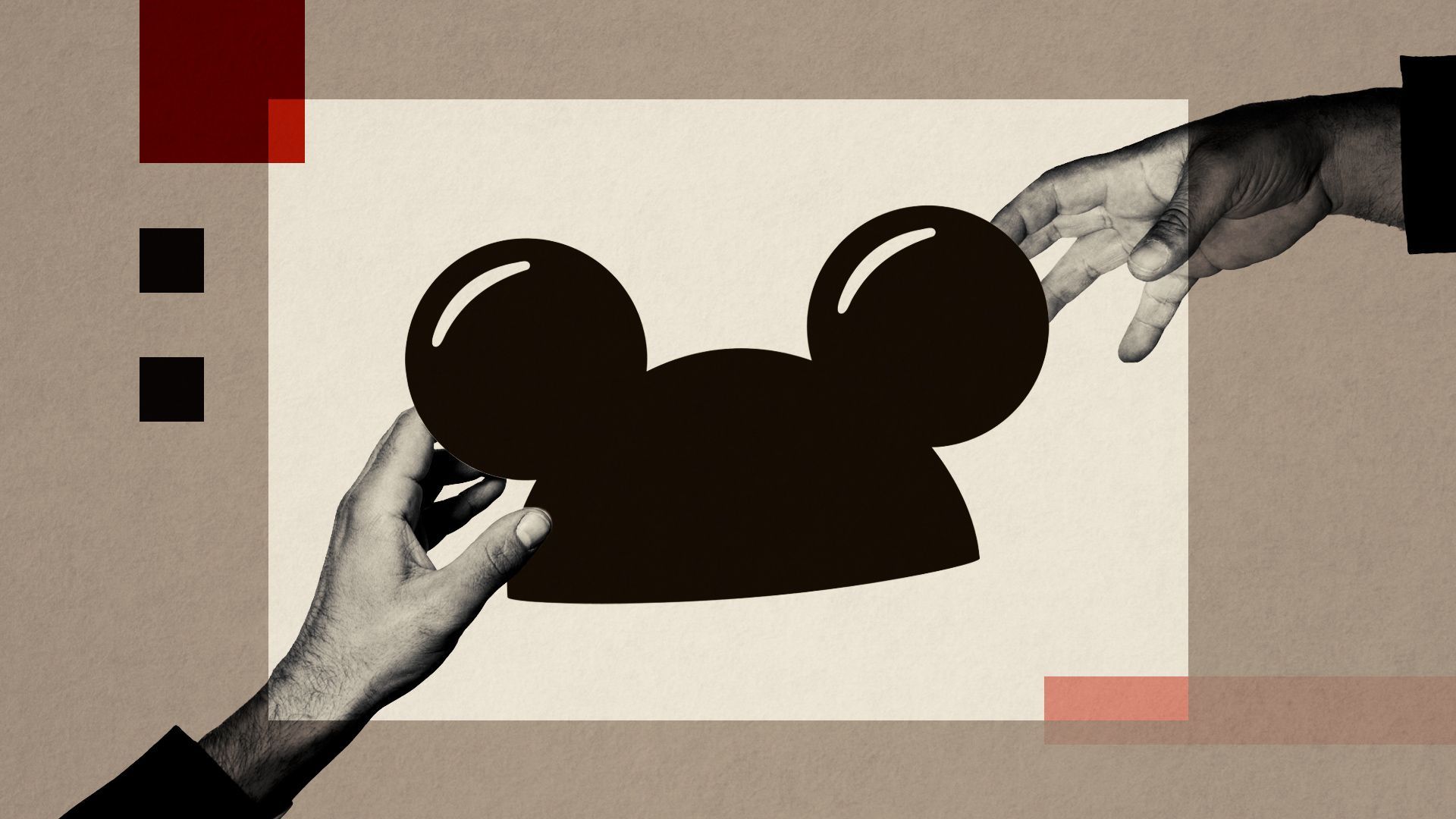 Illustration: Gabriella Turrisi/Axios
Beef between Disney and Florida Gov. Ron DeSantis shows no sign of abating.
Why it matters: The highly public feud is entering a new chapter, as Disney looks to flex its muscles from inside the Statehouse and double down on social values.
The latest: DeSantis threatened Disney this week with new oversight and obstacles, including a newly-created state board that could look into converting land around Disney World into a rival amusement park, or even a state prison.
Disney executives then reportedly called on lobbyists to keep tabs on any Florida bills that could hurt the company and to start "aggressively working against them," according to a CNBC report.
The intrigue: "The conflict is giving Disney a chance to demonstrate its mettle and rewrite the narrative on its corporate values and ethics," Beth Kowitt writes in a Bloomberg Opinion piece.
The company is hosting an LGBTQ workplace summit in the fall and it also announced a June "Pride Nite" event celebrating the LGBTQ community — a "next-level trolling" move, writes Kowitt.
Flashback: A big tipping point in the feud came when Disney publicly denounced Florida's Parental Rights in Education Bill, dubbed by critics as the "Don't Say Gay" bill.
Be smart: "Disney may very well be standing up for its values. But if you want to take a more cynical view, this is also a smart strategy on the company's part as it realigns itself with progressive causes because it has clearly lost any chance of making nice with the DeSantis crowd," Kowitt writes.
Disney did not respond to a request for comment.
The big picture: Disney is a political and economic force in central Florida, Axios' Zach Basu notes.
A 2019 study found Orlando's tourism industry generated $75.2 billion in annual economic impact, 463,000 jobs and $5.8 billion in additional state tax revenue.
What to watch: How other companies stand by their stated values. One presidential candidate, Vivek Ramaswamy, is already dragging powerful brands into political and cultural debates, and DeSantis also is expected to run.
Go deeper
DeSantis ramps up power struggle with Disney World
Florida expands "Don't Say Gay" law for all school grades
Source: Read Full Article