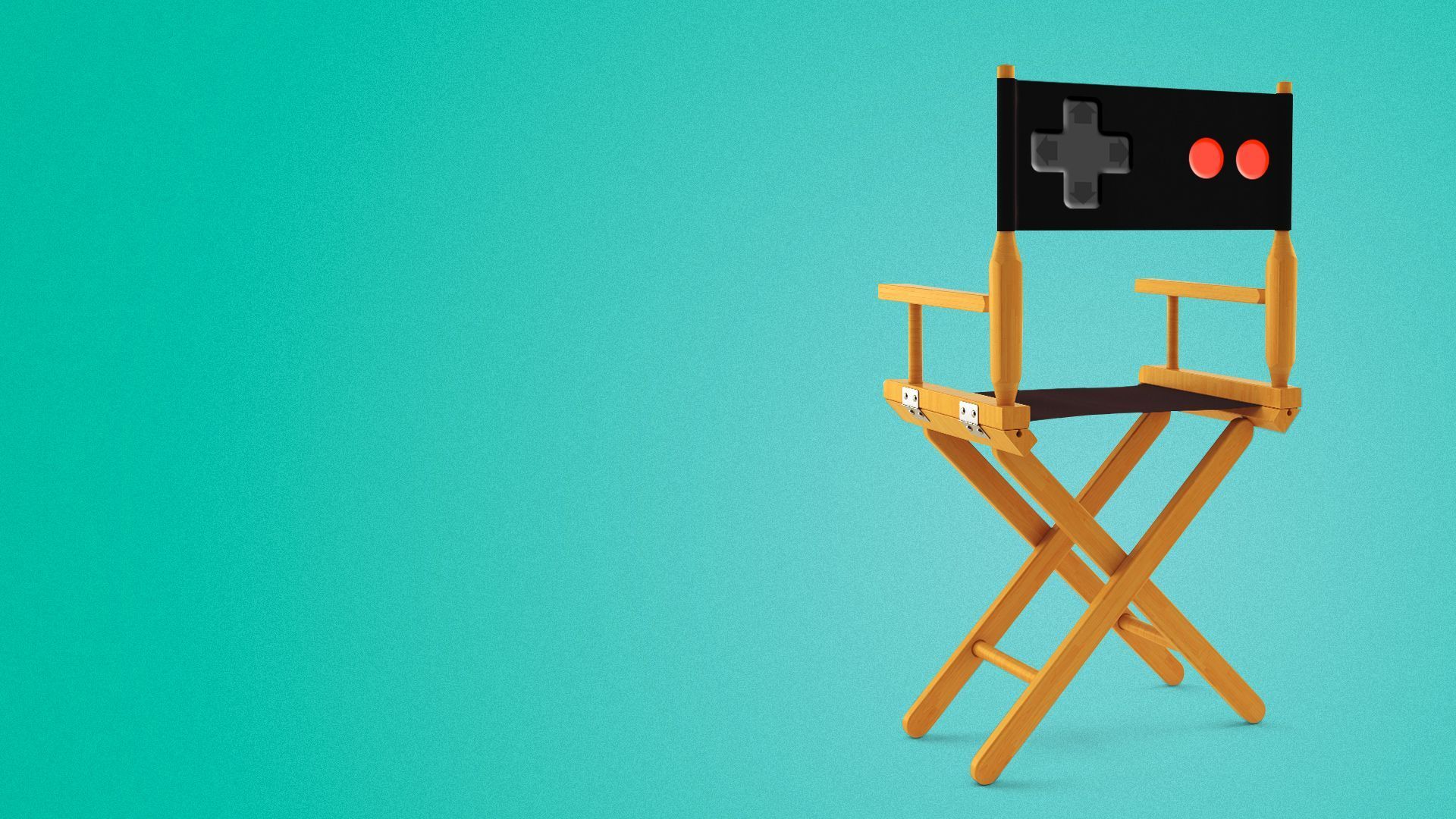 Illustration: Aïda Amer/Axios
Hollywood has a history of making movies and shows based on video games, but this week's release of "The Super Mario Bros. Movie" from Nintendo and Illumination cements the marriage of the two industries.
Context: Nintendo is the most influential gaming company in the world.
Despite its wildly popular franchises, the company has resisted going full Disney/Marvel or DC Comics to transport its world-famous characters into TV or movies.
Catch up fast: Longtime Nintendo rival Sega proved that there is a formula for success with a pair of "Sonic the Hedgehog" movies, the first in 2020, which have earned $700 million at the box office worldwide.
Sony's PlayStation division also hit big with 2022's live-action "Uncharted" and again with this year's HBO smash adaptation of "The Last of Us" (which, as with the Mario movie, was billed as a joint creative effort of game people with TV/movie folks).
Stephen's thought bubble: That even Nintendo is extending its IP into films proves that the gaming industry is all-in and that Hollywood is feeling confident about the bets paying off.
Turning games into movies is no longer the punchline that it used to be — now it's proving to be a winning formula.
Flashback: Nintendo has dabbled with the big screen before — its 1993 "Super Mario Bros." film is considered the first live-action adaptation of a video game and was widely panned.
Attempts that followed were just as forgettable. Think "Tomb Raider" "Hitman," and "Mortal Kombat," among others.
The big picture: Today, the stars are also aligned for gaming-based content to succeed with large audiences.
After all, superhero stories are causing fatigue.
And because Hollywood is "not so much a hits business as it is a risk mitigation business," as Sanjay Sharma, Marginal MediaWorks's founder and CEO, previously told Axios, funding projects based on stories and characters from video games played by hundreds of millions of dedicated people around the world seems like a safe bet.
What to watch: "Super Mario Bros." is expected to deliver $125 million or more in its first five days of release in North America.
For context, Paramount's "Sonic the Hedgehog 2" brought in $71 million over its domestic box office opening weekend.
Source: Read Full Article