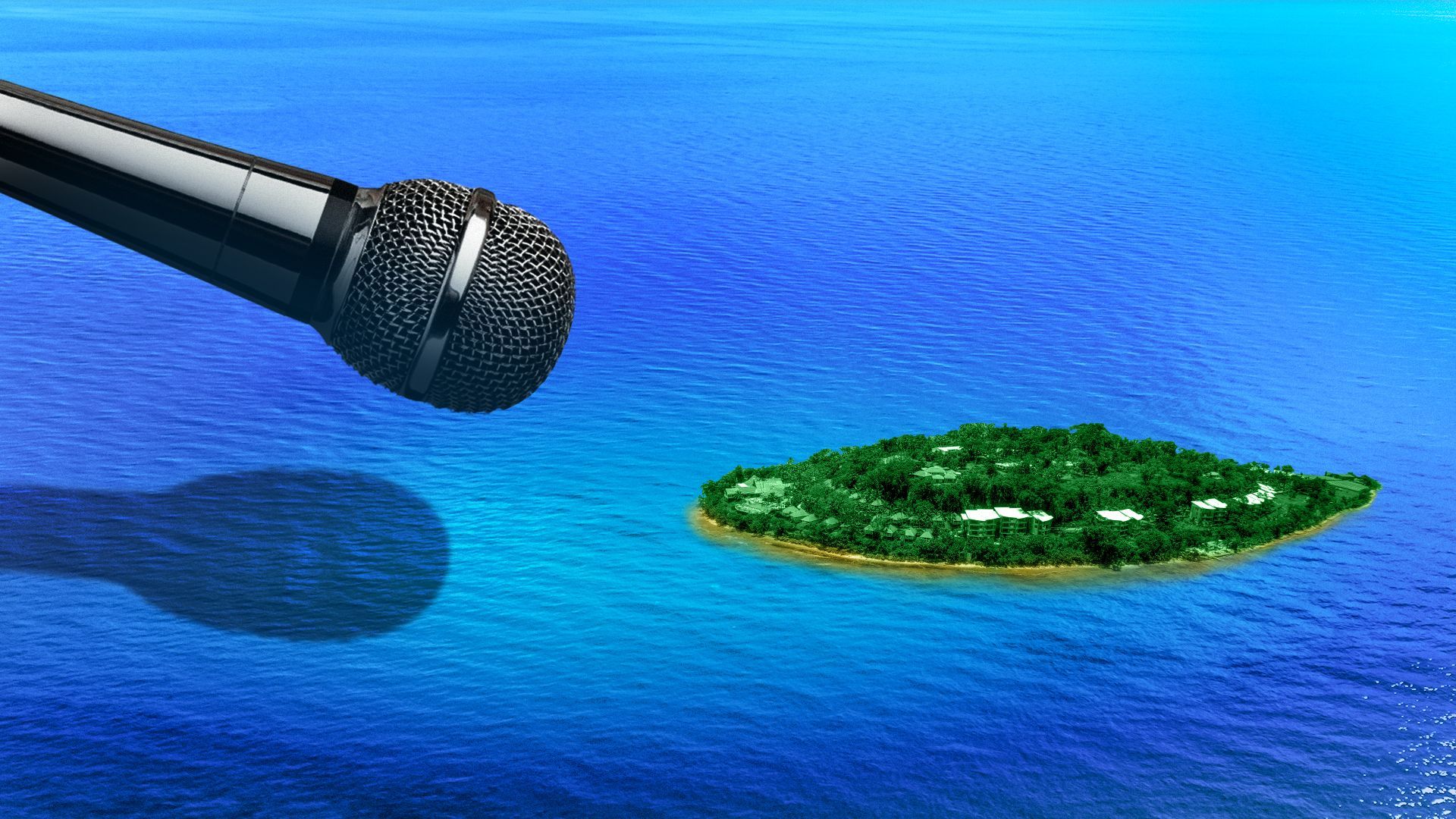 Illustration: Lindsey Bailey/Axios
The small Pacific island country of Vanuatu is poised to gain UN approval to seek an unprecedented legal opinion on what obligation countries have to combat climate change.
Why it matters: Vanuatu's resolution would give the International Court of Justice (ICJ) in The Hague a chance to weigh in on potential consequences for nations that have caused much of global warming to date.
The nonbinding advisory opinion could be cited by U.S. courts, and used in legal proceedings around the world.
The big picture: The push started in a law school classroom in Fiji four years ago, according to Cynthia Houniuhi, president ofPacific Islands Students Fighting Climate Change.
She and her international environmental law classmates brainstormed ways to seek action through various legal mechanisms, Houniuhi told reporters on a press call Thursday.
Propelled by youth activism, the effort to gain adoption by the UN General Assembly has been led by the Vanuatu government since 2021. The resolution, with a vote expected on March 29, has over 100 co-sponsors.
The intrigue: The questions the resolution asks the court are deliberately framed to avoid singling out large, industrialized countries responsible for the vast majority of historical global emissions.
This has helped the proposal gain steam in the General Assembly, picking up co-sponsors such as the U.K. and EU nations such as Norway. Australia recently signed on as well.
As a low-lying country, Vanuatu is acutely vulnerable to climate impacts. It is currently in a six-month state of emergency after two powerful tropical cyclones hit within one week in late February and early March.
The damage from those storms alone is expected to be half of Vanuatu's annual GDP, said Ralph Regenvanu, the country's top climate change and disaster risk management official.
Between the lines: Sandra Nichols Thiam, a climate litigation specialist at the nonprofit Environmental Law Institute, said an ICJ advisory opinion would be significant despite its nonbinding status.
"This could be a really big deal," she told Axios in an interview.
Thiam said U.S. courts routinely cite international law in their decisions, and this could help establish countries' responsibility to act on climate change in ways consistent with the scientific evidence.
This is a stricter standard than other climate cases seeking to hold governments accountable for meeting their commitments to date, Thiam added.
The case could help establish the goals that countries need to aim for based on their responsibilities for causing the problem, she added.
What they're saying: Odo Tevi, Vanuatu's UN ambassador, said his country pursued an inclusive process to build consensus around the resolution, and that countries are recognizing its importance.
"It touches on the fundamental issue," he said, which is "about protecting the present, and future generations."
What we're watching: Whether the U.S. throws its weight behind the resolution. The State Department did not comment by deadline.
Source: Read Full Article